Disposable PE Boots Cover Disposable waterproof transparent plastic boots cover hand made with elastic band
Material: Polyethylene material, 100% new LDPE material
Color: Transparent
Size: Free size, customized size 40*25*40cm
Weight: 16.0±0.2gr
Type: Single elastic Hand made Standard Plastic mold release , Plastic Antimicrobial ,Latex Free Non sterilized
| | | |
| --- | --- | --- |
| Disposable LDPE Boots Cover | | LDPE Boots Cover |
Design/Produce process: Hand made by welding, elastic band around the top knees.. 1. Raw material inspection 2. Film Blowing 3. Profile 4. Press elastic 5. Inspection 6. Packing
Packing: 10pcs/roll, 10roll/bag, 5bag/carton; 500pcs/carton. Carton size 50*25 *35cm
Age: Adults
Store condition: Store in dry and ventilated condition at temperature 10℃~40℃, humidity below 80%, avoid from corrosive gas and violet light sources such as sunlight and oxidizing agent.
Self life: 3 years
Certifications: CE , FDA, ISO
Feature: Disposable boots cover are transparent color, water or rain proof protection for veterinary.
QC Policy: 1.Our QC team member will inspect the products' quality in each order before delivery. 2.Once there is a problem, efficient solution will be taken and the professional workers will be responsible for the container loading.
Application: Waterproof boots cover are excellent for veterinary, food service, home use, dust-free workshop, electronic manufactures, public places, cleanroom, hotel, dustproof place, hair salon, chemical workshop, school, dust-free plant, beauty treatment, dustproof place, daily home use, factory, lab, industrial sector, food industry, household, restaurant, etc.
Caution: Once the boots cover gets broken and cannot provide further protection, please change another new one.
| | |
| --- | --- |
| Product Name | Disposable LDPE Boots cover |
| Material | Polyethylene material, 100% new LDPE material |
| Design | Hand made by welding, elastic band around the top knees. |
| Weight | 1 boots cover=16.0gr/pc |
| Color | Transparent |
| Size | Free size, customized size 40*25*40cm |
| Type | Standard , Single elastic, Hand made . Non sterilized . Plastic mold release , Plastic Antimicrobial , Latex Free |
| Storage | Store in dry and ventilated condition at temperature 10℃~40℃, humidity below 80%, avoid from corrosive gas and violet light sources such as sunlight and oxidizing agent |
| Packaging | 10pcs/roll, 10roll/bag, 5bag/carton; 500pcs/carton.Carton size 50*25 *35cm |
Quality Standards Conform to ChongJen General Standard
Inspection Levels and AQLs
Characteristic
Inspection Level
AQL
Physical dimensions
S-2
4.0
Appearance
G-2
4.0
Physical Dimensions
Type
Standards
A (mm)
B (mm)
C (mm)
Weight (g)
Size
250 ± 5
400 ±5
400 ±5
16.0±0.2gr
Figure for measurement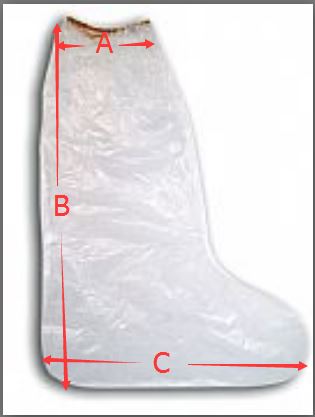 Hot Tags: disposable LDPE boots cover, China, manufacturers, suppliers, factory, price